Project-Based Biohazard Approval (BHA)
Individual biohazard projects will be evaluated using the Biohazard Approval form. The Biohazard Approval form allows for a detailed review of all aspects of the project and takes into account all participating researcher's individual BUPs, in addition to external researchers.
Please download the form here.

When to Use the Form
The Biohazard Approval form is to be used for all administrative processes (HRS/ROADS/MILO etc) which require project-based approval i.e. documentation that requires to have Project Title/Funding Agency/Start and End Dates specifically listed. These include but are not limited to:
protem approval for application-stage project applications
approval for funded-stage project applications
approval for sponsored projects
approval for unsponsored projects
approval for self-funded projects
approval for MTAs to receive items that specifically require 'project based approval'
When NOT to Use the Form
Use the decision tree below to determine when NOT to use the form, and generate your own documentation.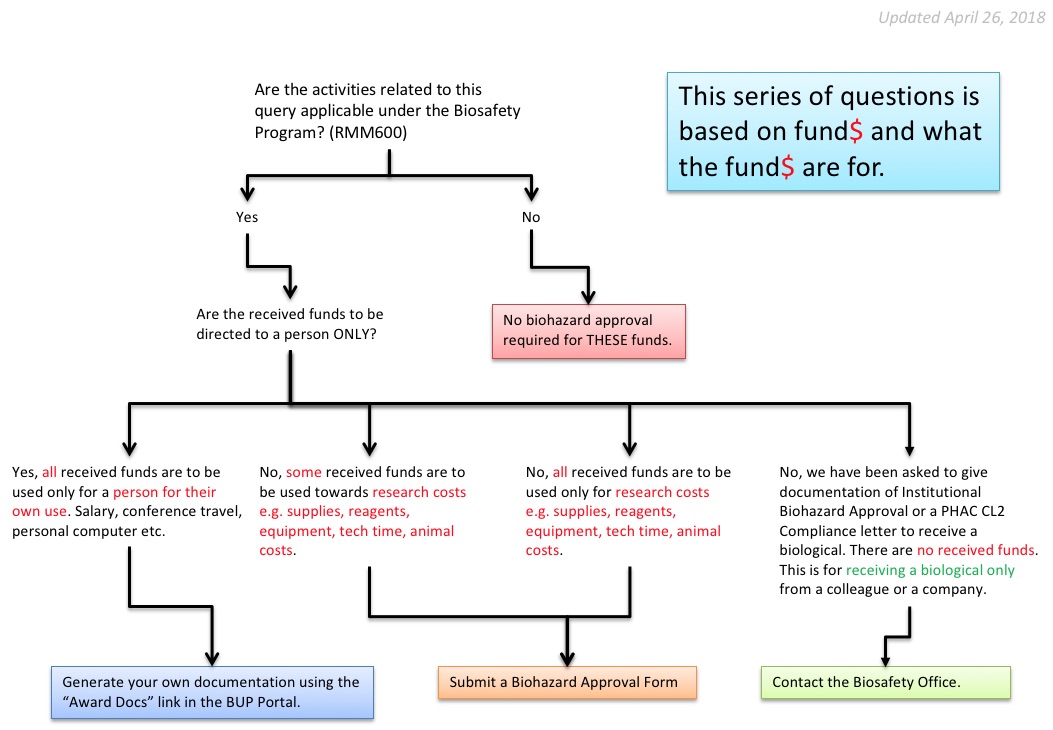 Courses and camps do not require to use this form. All required information is already captured in a suitable manner for review within online BUP portal.
How the Form is Used?
Once completed and submitted to the Biosafety Office, the information in the Biohazard Approval form is compared to each investigator's BUP to determine if the pathogens/materials are already on the existing BUPs. If not, the amendments will automatically be made to the relevant BUPs.
The project is reviewed by the PBAC and is approved if all BUPs are in good standing.
Please be advised of the following time delays:
Creation and review of a new BUP if necessary – 2-3 months; this includes filling in forms, acquiring the required training and committee review of the BUP; required only once; highly dependant on the size of the inventory
Review of amendments if necessary – 1 month
Training or update training for all staff if necessary – 1 week to 1 month
Laboratory Audit if necessary – 2 hours for audit, 1-2 months for preparation and post-audit follow-up
How is the Biohazard Approval Form Different from the BUP?
The Biohazard Approval (BHA) form is used for per-project approvals. The BUP is meant to capture all biosafety and biosecurity related information and personnel information per-PI. The BUP will follow the PI for the duration of their employment at McMaster University. The "expiry date" listed on the BUP is the 4-year comprehensive review of the entire BUP by PBAC. There is no need to re-submit or re-do any forms as all informaton is retained in a database. You can consider the Biohazard Approval Form as a mechanism to 'amend' grant information to your BUP. The expiry date of your BUP is the expiry date of all of your grants for in-house purposes - this allows for only one followup per year on behalf of the finance offices.
Updated 24-Mar-16