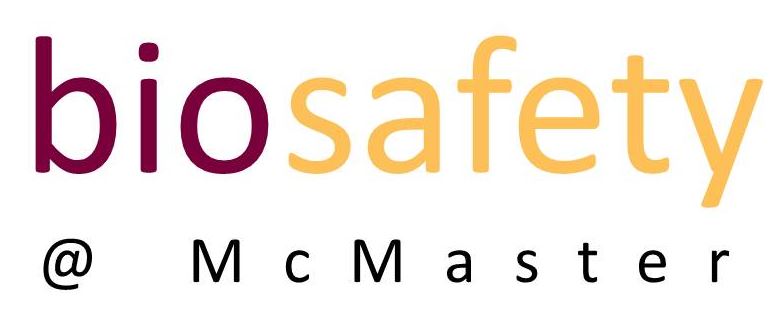 Biosafety @ McMaster
Sending/Receiving Notifications

It is mandatory to notifiy the biosafety office and/or customs prior to sending or receiving a biological item. Please use the online email form below to process your notification.
Online Email Notification Form
---

HTHSCI 1BS0 Code Change
Recently, HTHSCI 1BS0 has changed its course code to BIOSAFE 1BS0. UNDERGRADS PLEASE REGISTER IN BIOSAFE 1BS0 NOT HTHSCI 1BS0!!!
Biosafety Training Has Been Updated
Biosafety training now consists of three courses:
Biosafety Training (

core

, taken once by biohazard lab workers and their Supervisors)
Biosafety Update (taken annually by all those who have taken

core

previously)
Biohazard Awareness (taken once for non-biohazard users working in a workspace that contains biohazards)
Plant Pests Regulated Under the Plant Protection Act
Please refer to the chart found here for the pathogens which are regulated under the Plant Protection Act. If you possess any of these plant pathogens, you must obtain a "Written Authorization for Use" from CFIA, regardless of the source of that pathogen. Please contact the Biosafety Office to apply for this Authorization.
---
Updated 30-May-17
Sending or receiving? You must notify the Biosafety Office first!
The Human Pathogens and Toxins Regulations stipulate that any person must notify the Biosafety Office prior to arranging for sending or receiving of any human pathogen or toxin. (Sec 4(1)b.)
Our University policies extend this requirement to any microorganism, fungi, protozoan, parasite, plant, seed, soil sample, prion, toxin, cells, tissues, biological fluids, invertebrates or animals, including those rated as BSL1.
IMPORT PERMITS MAY BE REQUIRED FROM CFIA.
Complete information here.
Your collaborator or vendor may have their own FORMS for pathogen transfer which require multiple signatures. If there are no forms in the process, you can use the new Pathogen Transfer Form found here to create a record of the transfer. This form was created by collaborative effort from all the U15 biological safety officers.
Labcoat Cleaning
For those who submit labcoats for laundering through HHS/Mohawk services, please see the update in processing here. Please note that although the document refers to FHS, it includes all McMaster campus labs who use this service.
Emergency Response
Emergency response training is required annually by the new Biosafety standards (CBS section 4.3.10).
Each lab's emergency response plan should contain SOPs to address those items listed in CBS section 4.9. An editable SOP has been added to the SOP page.

Applicability Form
Complete and submit this form to have your work evaluated for applicability to the biosafety program and policies.