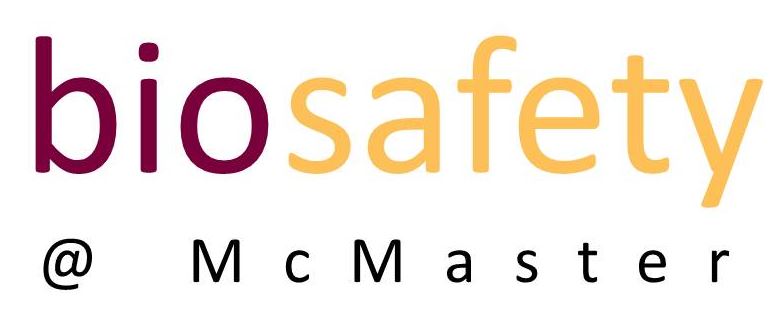 Biosafety @ McMaster

Sending/Receiving Notifications
Click on one of the links to generate a notification email.
I am sending/receiving within Canada
---
News

Biosafety Training Has Been Updated
Biosafety training now consists of three courses:
Biosafety Training (

core

, taken once by biohazard lab workers and their Supervisors)
Biosafety Update (taken annually by all those who have taken

core

previously)
Biohazard Awareness (taken once for non-biohazard users working in a workspace that contains biohazards)

Sending or receiving? You must notify the Biosafety Office first!
The Human Pathogens and Toxins Regulations stipulate that any person must notify the Biosafety Office prior to arranging for sending or receiving of any human pathogen or toxin. (Sec 4(1)b.)
Our University policies extend this requirement to any microorganism, fungi, protozoan, parasite, plant, seed, soil sample, prion, toxin, cells, tissues, biological fluids, invertebrates or animals, including those rated as BSL1.
IMPORT PERMITS MAY BE REQUIRED FROM CFIA.

Complete information here.

Your collaborator or vendor may have their own FORMS for pathogen transfer which require multiple signatures. If there are no forms in the process, you can use the new Pathogen Transfer Form found here to create a record of the transfer. This form was created by collaborative effort from all the U15 biological safety officers.
---
Supervisors Enroll Your Direct Reports in Mosaic Training
Supervisors can enroll their direct reports in Mosaic training modules. Watch this video to see how you can accomplish this.
Printing Your Training Information from Mosaic
Sometimes a page print or screen cap will not work if there are too many rows. Watch this video to see how you can copy your Mosaic Training information into an Email. If you have the Human Resources tab, here is how you can get to your training information.

Accurate Mosaic training completion dates are now available. Please watch this video to see how to access this information.
Mosaic Access - Person of Interest
!!!Supervisors!!! Please use the form found here to give access to your workers who do not already have access to mosaic health and safety training.
Biosafety Training On Mosaic
All biosafety training is offered through Mosaic. Please disregard the dates. Once you register through Mosaic for a course, it will appear in your Avenue to Learn account 24-48 hours later. Once completed, the results will be transferred to your Mosaic training record 24-28 hours later.
mosaic.mcmaster.ca
avenue.mcmaster.ca
Updated 6-Sep-16
Updated Canadian Biosafety Standards Published
The second edition and official version of the Canadian Biosafety Standard is published on the PHAC website here.
New Canadian Biosafety Handbook Published
The second edition and official version of the Canadian Biosafety Handbook is published on the PHAC website here. The CBH is a companion document to the CBS. The CBH offers more detailed explanations and recommendations for implementation.
Labcoat Cleaning (Update)
For those who submit labcoats for laundering through HHS/Mohawk services, please see the update in processing here. Please note that although the document refers to FHS, it includes all McMaster campus labs who use this service.
Documentation Required for Salary/Stipend Award Applications
Please log into your BUP through th BUP portal to generate documentation required for Award Appplications for salaries or stipends.
Re-assessment of Human Specimens for Use in Research and Teaching Laboratories
Please see the PBAC Implementation Directives webpage for a reassessment of human specimen use in laboratories.
Frequently Asked Questions Regarding HPTA and HPTR
Please see this FAQ here.
Changes to Biohazard Project Approval
As of October 20, 2014, individual biohazard projects will be evaluated using the new Biohazard Approval form. This form replaces the former amendment procedure for grants. The new Biohazard Approval form allows for a detailed review of all aspects of the project and takes into account all participating researcher's individual BUPs, in addition to external researchers. The Biohazard Approval Form is found here.
Changes to the Laboratory Audit Schedule
The schedule for biosafety audits conducted annually for biohazard labs has changed. Please click here for details.
New PHAC Directive for Mycobacterium Tuberculosis Complex
The Public Health Agency of Canada has released a new directive for specific activities undertaken with MBTC. Researchers dealing with respiratory specimens will have special interest in the directive, which can be found here.
New HPTA Regulations
The Human Pathogens and Toxins Act has a new set of regulations which came into force on December 1, 2015. Please take the time to read through them.
BUP for Courses and Camps
All courses and camps which use biohazardous materials must complete a BUP. Please contact Karen Haines to set up online access.
Plant Pests Regulated Under the Plant Protection Act
Please refer to the chart found here for the pathogens which are regulated under the Plant Protection Act. If you possess any of these plant pathogens, you must obtain a "Written Authorization for Use" from CFIA, regardless of the source of that pathogen. Please contact the Biosafety Office to apply for this Authorization.
PBAC Implementation Directives
For extra guidance on select topics, please check here regularly.
Fillable Incident Reports
Incident/Injury reports must be submitted within 24 hours of an incident - even if not all the signatures are complete. For the policy go here. For the most up to date form go here.
Safety Policy and Programs
McMaster has a Workplace Environmental Health and Safety Policy. There are also a myriad of safety programs which support this policy. These are all found in the Risk Management Manual.
Emergency Response
Emergency response training is now required annually by the new Biosafety standards (CBS section 4.3.10).
Each lab's emergency response plan should contain SOPs to address those items listed in CBS section 4.9.

An editable SOP has been added to the SOP page.
New Links
New links will be moved to the Biosafety Links page after one month.
Are your lab sinks covered in scale?
Cleaning Hard Water Deposits from Stainless Steel Sink
Descale it once, then keep it clean by intermitant washing plus drying at the end of the day.
Standard Operating Procedures
The amount of documentation required for Biosafety compliance has steadily increased over the past decade.

A number of SOPs have been added recently. Please download, modify and incorporate into your lab-specific biosafety manual.